Normandy the Beginning of the End (ENGLISH EDITION)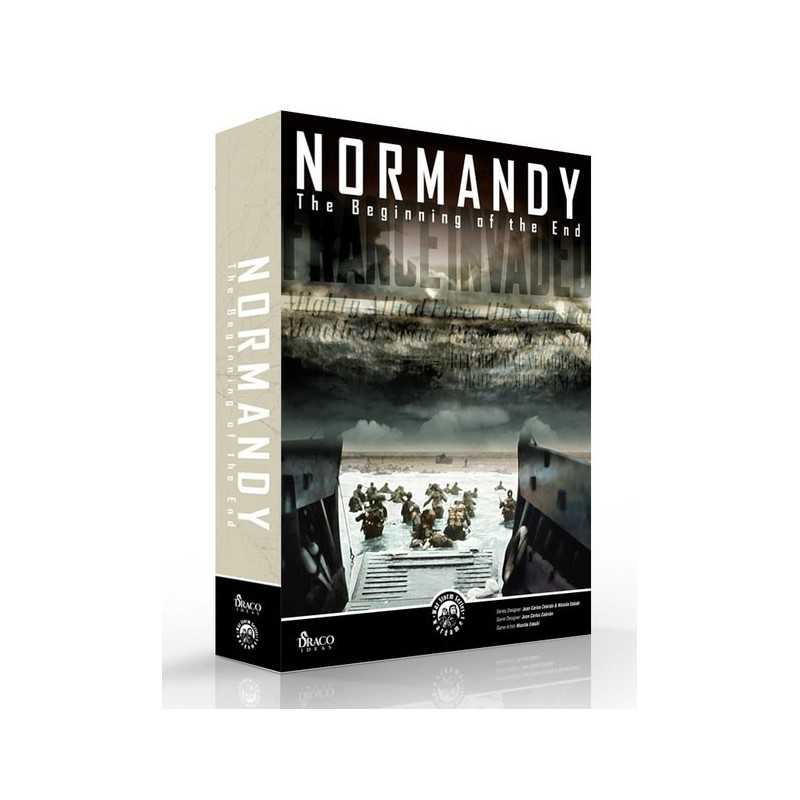  
Normandy, the Beginning of the End is a tactical war game and the fourth installment of the renowned saga War Storm Series (WSS) in which players lead their troops through scenarios that take place on the Western Front from the early days of the D-Day landings until August 1944. KICKSTARTER STRECH GOALS INCLUDED
Last items in stock
Available on: 26/11/2018

Game description
Normandy, the Beginning of the End
Publisher: Draco Ideas
Designer: Juan Carlos Cebrián
Art: Nikolás Eskubi
The scale of the game is at the platoon level.
Each unit represents a group of between 30 and 40 infantrymen and 3 to 4 crewmembers for heavy weapons (3 to 5 in the mechanized vehicle units).
Each hex on the map depicts an area of 150 to 200 meters (roughly 165 to 220 yards).
The game is divided into turns that represent about 12 to 15 minutes of action.

The game uses a system of simultaneous actions called "WE GO", a turn-based and real–time hybrid where players will alternate the activation of units.

The heart of the WSS system relies on command and officers are the keystone of the game. Troop morale is also paramount and reflects battle in a more realistic way: units under our command in the roar of battle may or may not accept our orders.

The game is played on a set of modular isomorphic maps, which may be lined up by any of its edges. Normandy includes a total of 788 counters and markers: 260 3/4" and 528 5/8".

In Normandy, we will have at our disposal a wide range of counters representing platoons of a company.

For the American and French side, we will have 2 punchboards of counters available including:

61 platoons of armored vehicles.
66 platoons of artillery and auxiliary units.
3 aircraft units.
176 platoons with officers, infantry platoons and morale markers.

For the German Army, we have 2 punchboards available that will include:

62 armored vehicles platoons.
68 artillery and auxiliary unit platoons.
176 counters with officers, infantry platoons and morale markers.

On top of that, we will have an additional punchboard with 176 counters/markers to include game sequence/game control markers and special terrain features such as trenches, minefields, fortresses, bombardments, objectives, and so on.
Players: 2
Playing time: 90 min.
Language: ENGLISH
Age: 13+
Product Review
Reviews (0)

All reviews (0)
Excellent (0)
Good (0)
Medium (0)
Poor (0)
Terrible (0)

Latest
Oldest
High rating
Low rating
Helpful