PREORDER On to Richmond II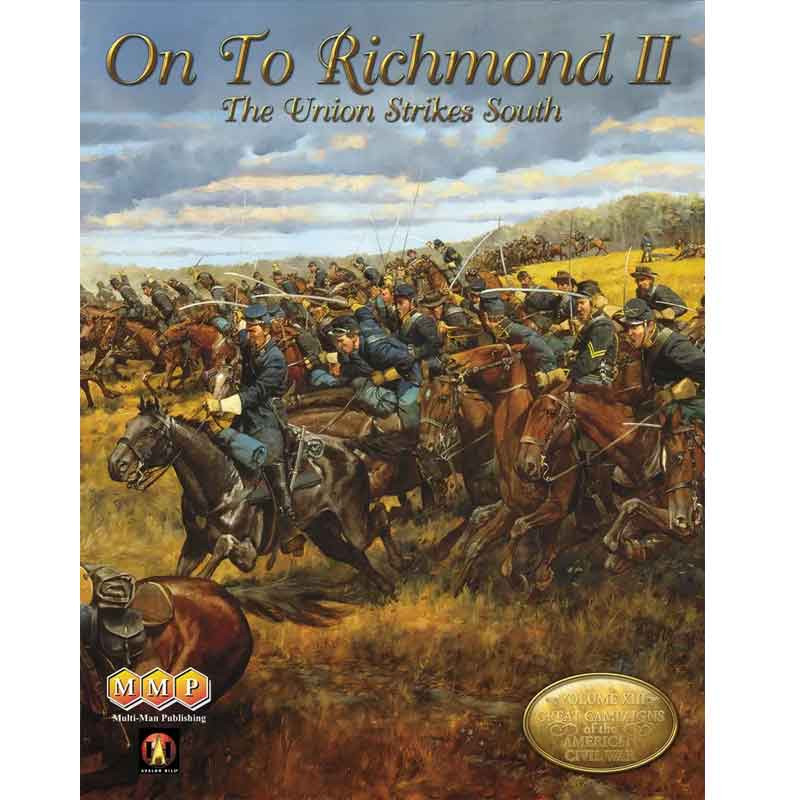  
On to Richmond II: The Union Strikes South covers some of the most famous campaigns of the Civil War in a single module for the award-winning Great Campaigns of the American Civil War (GCACW) series. Two of the campaigns in this module have been revised, repackaged, and rebalanced for improved play; and the third is entirely new:
Out-of-Stock
Available on: 31/08/2023

Game description
On To Richmond II (which covers the 1862 Richmond Campaign) has had the Basic Game scenarios rebalanced as needed and modifications made to the rules and victory conditions for the Advanced Game scenario.
Grant Takes Command II (which covers the 1864 Overland Campaign) has had the various basic and advanced game scenarios revised as needed.
The Petersburg Campaign (which covers the 1864-1865 Petersburg Campaign) is an entirely new module that covers the months of battles, mostly in the open field, that started when Grant marched across the James River in June 1864 and ended with the defeat of the Confederates at Five Forks in April 1865.

The four maps included are painted by original map artist Charlie Kibler and have been significantly revised to include all the latest GCACW terrain types including hills, swamps, dams, trails and landings. New map area has been added to cover the western portion of the Petersburg battles. The military unit counters have been redesigned by Charlie Kibler to harken back to the counters in the original games in the series but with a more modern graphical treatment.

Richmond & Petersburg Campaigns includes a massive collection of twenty-five Basic Game scenarios and seven Advanced Game campaigns, divided as shown between the three modules:

On To Richmond II includes one new Basic Game scenario, the seven original Basic Scenarios redesigned and rebalanced, and the original Advanced Game campaign scenario extensively revised.

Grant Takes Command II includes the eight original Basic Scenarios rebalanced as needed and the four original Advanced Game campaigns.

Note: the two grand campaigns require the Stonewall In The Valley maps which are not included.

The Petersburg Campaign includes nine Basic Game scenarios and two Advanced Game scenarios.
Players: 2
Playing time: 180 min.
Language: English
Age: 14+
Product Review
Reviews (0)

All reviews (0)
Excellent (0)
Good (0)
Medium (0)
Poor (0)
Terrible (0)

Latest
Oldest
High rating
Low rating
Helpful