In Agricola, you're a farmer in a wooden shack with your spouse and little else. On a turn, you get to take only two actions, one for you and one for the spouse, from all the possibilities you'll find on a farm: collecting clay, wood, or stone; building fences; and so on. You might think about having kids in order to get more work accomplished, but first you need to expand your house. And what are you going to feed all the little rugrats?
Players begin the game with two family members and can grow
their families over the course of the game. This allows them more
actions but remember you have to grow more food to feed your
family as it grows!
Feeding your family is a special kind of challenge and players will plant grain and vegetables while
supplementing their food supply with sheep, wild boar and cattle. Guide your family to wealth, health
and prosperity and you will win the game!
Agricola is a turn-based game. There are 14 game turns plus 6 harvest phases (after turn 4, 7, 9, 11, 13, and 14). Each player starts with two playing tokens (farmer and wife) and thus can take two actions per turn. There are multiple options, and while the game progresses, you'll have more and more: first thing in a turn, a new action card is flipped over. Problem: Each action can be taken just once per turn, so it's important to do some things with high preference.
Each player also starts with a hand of 7 job cards (of more than 160 total) and 7 item cards (of more than 140 total) that he/she may use during the game if they fit in his/her strategy. Speaking of: there are countless strategies, some depending on your card hand. Sometimes it's a good choice to stay on course, sometimes you better react on what your opponents do.
Players: 1-4
Playing time: 120 min.
Language: English
Language dependence: HIGH
Age: 12+
Deutscher Spiele Preis 2008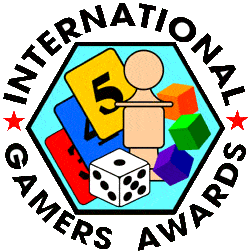 International Gamers Award 2008